About The Leather of Brooklyn
Color colored by the balance of blue and purple.
As Japan Blue, there are many fans in the world.

The Brooklyn Museum selects Hongo dyeing indigo by fermentation of natural lye using Awa-an.
Without using any chemical dyes, we dye only the chikara that has alive through nature.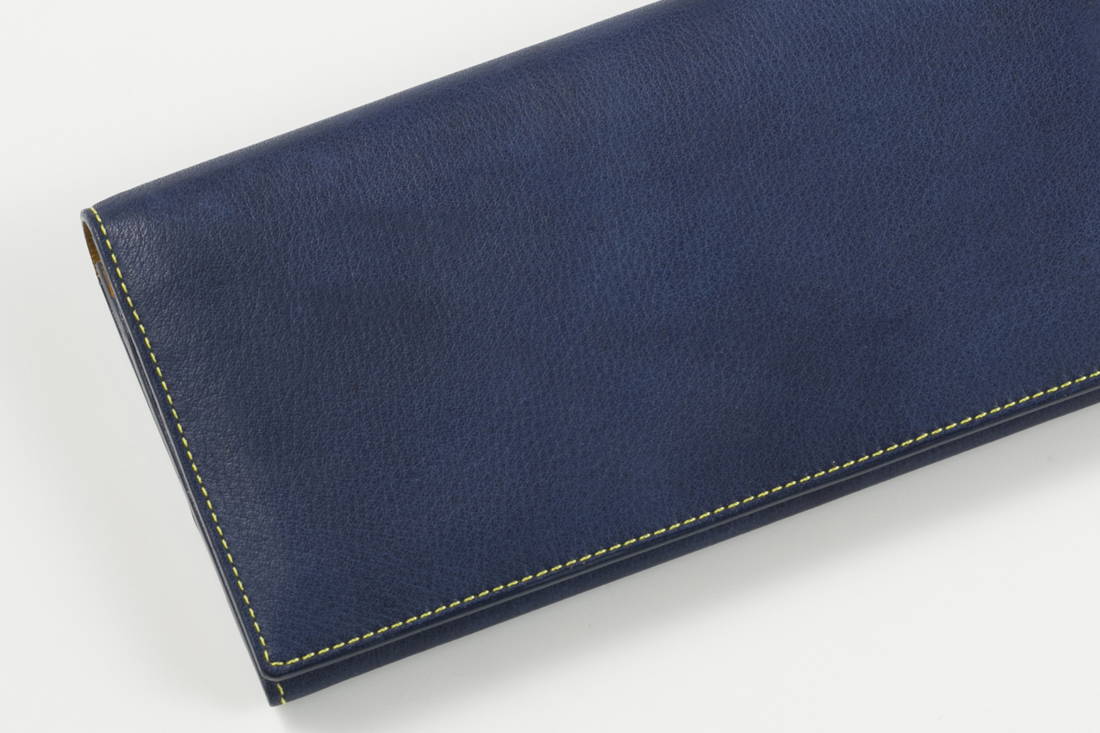 Awa-produced persimmons used in Brooklyn are Tade family plants and are dyed with a solution of indigo dye using high-quality "s spiders" (fermented persimmons).
Because honto dyeing by natural lye fermentation, chemical dyes are not used at all, and it is characterized by using only natural materials.
Immediately after dyeing, it is green, but by touching the air and oxidizing it, it changes blue.
It is a natural dye that does not dye at once.
The vivid blue that emerges by taking the time and effort to look at Nagisa's good mood.

During the dyeing process, there is a process of loosening the fibers of leather, which makes it soft to blend into the unique hands of indigo dyeing.
By oxidative dyeing method, it is possible to express a unique color, a subtle uneven feeling.

The life that the rose and the leather are full of energy.
It made me realize that a sense of unevenness that is not perfect is natural beauty.

The good thing about Honto dyeing is that it is not only a texture, but also a sustainable dyeing method.
It is proof that it is natural to be able to touch the dye with your hands.

Craftsmanship has been close to the environment for hundreds of years.
Japan blue with yellow spices.
This is the "Indigo Dyeing Series" at the Brooklyn Museum.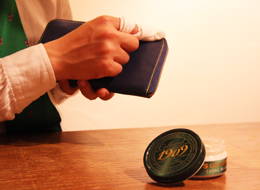 We recommend Colonil 1909 Shreem Cream Deluxe.
First of all, after removing dust and dirt that cannot be seen by brushing, a very small amount of cream is removed on a soft cloth and applied uniformly to leather products.
After application, brushing will remove excess cream and give it a gloss.
Please wipe dry with leather glove to finish.
In this case, there is a risk of depriving the oil of leather, so please be careful not to wipe too strongly.
The frequency of care depends on the condition, but please go once a year as a guide.
Because of the natural dye, the color comes out little by little depending on the growth condition of the persimmon every year and the condition of the dye at the time of dyeing. Therefore, please understand because there is a difference between the image and the color.

Depending on the location of the leather, tigers (wrinkles in the neck) and white points of pores may remain. Don't worry, this is a characteristic of leather and not a click.

We try to reproduce the actual product as much as possible, but depending on the monitor and personal computer environment you are using, there may be differences in the way the colors look. Please understand in advance.