About leather of Brooklyn
"Yamato" that is Brooklyn original leather.

I receive the benefit of the four seasons in Japan and am leather of the Japanese beef which I write time slowly and carefully, and was brought up.

"That texture opens slowly from" spring to the summer and hangs it in winter from autumn, and to close slowly
It is smooth, and it features the quality of skin which it feels the beautiful four seasons, and was bred to be superior in elasticity.
I give Tannin tannage not to spoil the texture, and it is finished dyeing by a processing method called "this dyeing".
When I put some dye in leather as raw material, I dry it in the sun and repeat the process that I dry in the sun when I put dye a little again many times and am finished carefully without regretting trouble by the manufacturing method to let I hang time, and dye soak to a leather core. The clear color and feel of a material that I can express simply because it is this dyeing. The color is gradually deep and, with the number of years to acquire, changes densely.

It is with the important key that it talks about Yamato to perform "the luck" that is hardly performed now. I am finished to the leather which it is more beautiful, and is elegant to fix the texture by giving these several times of -- work smoothing off the surface with a spatula.

"The oar maid in Japan" which was dealt with when a prominent craftsman of Japan stood all until the last trip to become processing, the products from breeding, the leather as raw material of the cow to leather.
The process to finish in the quality that Brooklyn demands takes much trouble and time. It is the leather which should boast of "taking" trouble in various tannaim too much and the process that continued being declined to the world that I realized simply because a builder was that it is pleasant, and undertook "for one feeling called" which wants to make a good thing.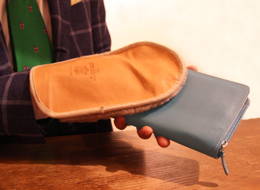 I recommend 1909 コロニル シュプリームレザーローション.
Firstly after having removed invisible dust or dirt by brushing, I take very few lotions on tender cloth and plaster it to leather products uniformly.
After application, I give luster while removing extra cream by brushing.
Give finish 乾拭 きをして with a leather glove.
At this chance, please warn him because you might take a leather oil not to strongly wipe it too much.
The frequency of the care depends on a state, but, please go once a year in an aim.
By time and individual difference of the leather as raw material to dye leather, entry of the dye may be different one by one. I assume it leather personality, and, please enjoy it.
I keep the product image in mind to reproduce the item on display as much as possible, but, depending on a monitor and PC environment of the use, there is the case that I am seen, and a difference produces in of the color. Approve it beforehand.