Description
"Simple & Basic" is a universal theme. Adults who have graduated from decorating are what they can feel "good quality".
A wallet is a mirror that reflects "personality" at any time. French calf that does not fade over time. Inner color finished with vivid contrast.
Even in business scenes and special days, even if you take out your wallet from your bag, your surroundings should be fascinated.
A total of 12 cards can be stored, including 6 cards on the Kabuse part, and six in the bill. The card stage of the bill is perfect for keeping a private card, such as a license and insurance card, because all cards are placed so that all cards are not visible when you open your wallet. By setting the back of the card stage in a storage pocket, the bill is divided by type, a copy of the card statement, and tickets can be organized.
Even if the belt made slightly longer is a lot of things inside, the belt is considered to protect the contents without removing the belt.
There are also points in the coin purse position. By placing it in front of the billing and the card stage, the zip top is large, the coin is easy to see, and the coin is easy to take out, as well as a coin purse, and a partition is provided before and after. Prevents it from getting on the surface. With this construction, the leather itself not only makes it harder to damage it, but as a result, it will be a product that can be used for a long time.
I want to cherish the appearance while using it with a major premise that it is practical.
"Sasamachi" is one of the techniques to make gusset in wallets. The top is wide like a fan, the narrower the lower the lower part, it is easy to see, and it has the advantage of holding it smartly.
In general, it is common to fold it in one place, but Brooklyn creates a gusset with a second place. Because its shape looks like "W", it is called "double salmachi".
The reason for W is "because the end of the banknotes does not break". If the valley is widely opened to make it large, the insertion into the inside will deepen, and the banknotes tend to get caught. In that respect, when it is w, it opens large even with shallow folds and can put banknotes neatly.
Lining is original leather
The soft leather developed by Brooklyn for the interior.
As the name suggests, it is finished with a soft and very soft texture, so no bills or cards are caught. In addition, two soft leather is always applied to all parts, including the inside of the coin purse.
The reason is simple, "I want you to use it for a long time."
We polish each part of the parts, such as card steps and partitions, and make sewing machines, so that they do not break or peel off.
[Table / Middle] French calf (cowhide)
[Interior] Original soft leather (cowhide)

[Table / Middle] Tope
[Interior] Yellow
[Stitch] off -white

Vertical 10 x horizontal 18.8 x Machi 3 (unit: cm)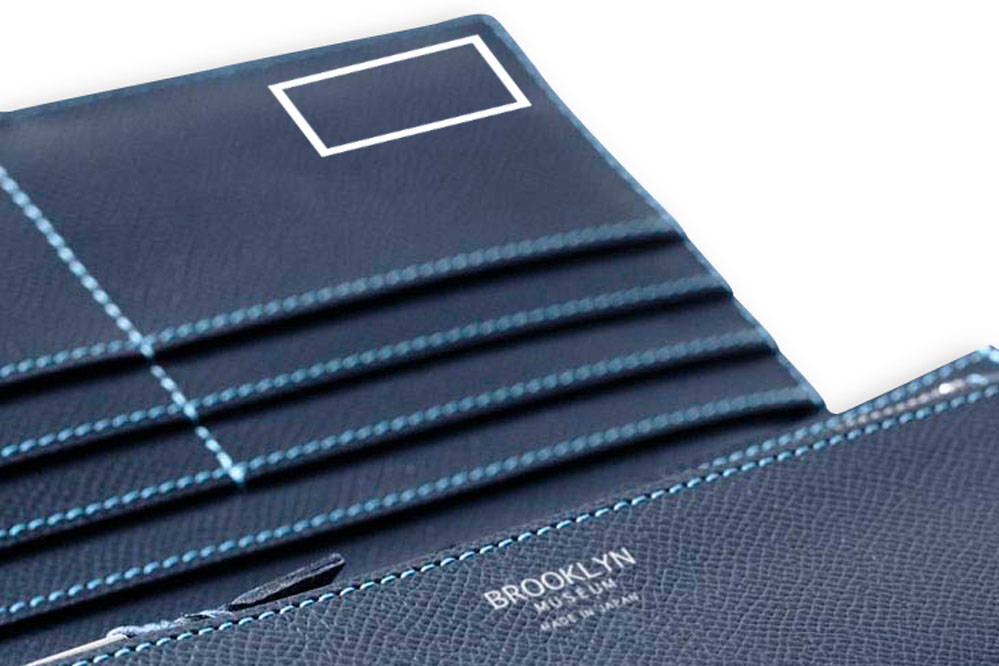 《Stamp free & free shipping campaign is being held》
We will make an initial engraving for free.
If you wish, on the shopping cart page at the time of purchase, "Inquiry items Input field"fart
[⒈ The engraved color you want (push, silver foil, gold foil) ⒉ Initial]Please describe.

* The engraved location is the image white frame.
* Initials will be up to 3 characters " *. *" (Combination of alphabets and dots).
* The engraved size is about 4mm vertical x 12mm width.
* If the engraved color is not specified, it will be engraved with a silver foil.
Payment & Security
Your payment information is processed securely. We do not store credit card details nor have access to your credit card information.