Description
The coin case, card case, and banknote pockets were designed and slim3in1Type mini wallet.
"I want a mini wallet, but I don't want to fold the bills into three."
There is a little sewing under the slit, so there is no need to worry about the banknotes.◎


It is an adult mini wallet that creates a small but rich atmosphere by finishing with a cool thritch .

Nowadays, cashless flow progresses. Use the main and sub wallet properly. It is a new form of a mini wallet proposed by Brooklyn.
◆ Patent Office Design Registration No. 1699838 ◆
Leather [Croco pattern leather]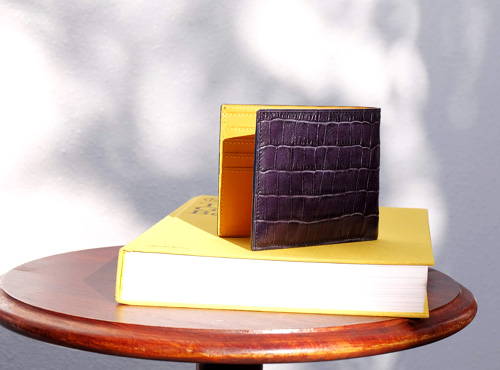 Leather with a small crocodile embossed on a kip leather (cowhide) of over one year after birth. In order to express a texture close to a real crocodile, a more uneven shading is reflected by pressing another type at the same time instead of simply pressing the mold from the table. Furthermore, by applying a semi -aniline (mixing dyes and pigments well) at the time of dyeing, it becomes a transparent color, and the unevenness of the unevenness looks beautiful due to the reflection of light.
The contrast between the rich color and the playful stitch color is unique to the Brooklyn Museum. The stitched color carefully selected to approach the "original color with color" is the best match of the coordination color of the tanner.
It is a series that maximizes the ease of use of cowhide while retaining the luxury of crocodile.
[Table] Croco pattern leather (cowhide)
[Interior] Original soft leather (cowhide)

[Table] Navy
[Interior / Stitch] Turquoise Blue

Vertical 8 x horizontal 9.5 (unit: cm)
《Free shipping campaign is being held》
We are very sorry, but this product is not eligible for a free engraving campaign.
* Due to the structure, the engraving cannot be pressed after the finish.
The shipping fee will be delivered for free.
Payment & Security
Your payment information is processed securely. We do not store credit card details nor have access to your credit card information.