Product development secret story
I think that our ID strap was not produced if synchronized terrorist attacks of New York do not happen on September 11, 2001.
After this, security was strengthened throughout the world, and an ID check became essential.
The situation only as for the plastic thing made which is simple even if there is very little ID strap in itself till then in Japan, and there was it. Meanwhile, I had the demand of the visitor "to want an ID holder except the plastic" and challenged development from one.
At first it was horizontal, and, as a product, the form was decided, but as a result of there not being the parts which were good what it was, or having examined it with "what you would do to a" joint, custom-ordered corner pipe parts and the circle pipe parts which I put together in leather thickness in SV925 because there was not it to a ready-made article. With SV925, is called < sterling silver >; silver content of 92.5% "valuable, a sterling = genuine article" is a silver identification of of high quality. Of course I thought about the presence of the appearance by finishing even small parts in the material that "deserved to be the thing which a" adult wore to be long, and to be usable.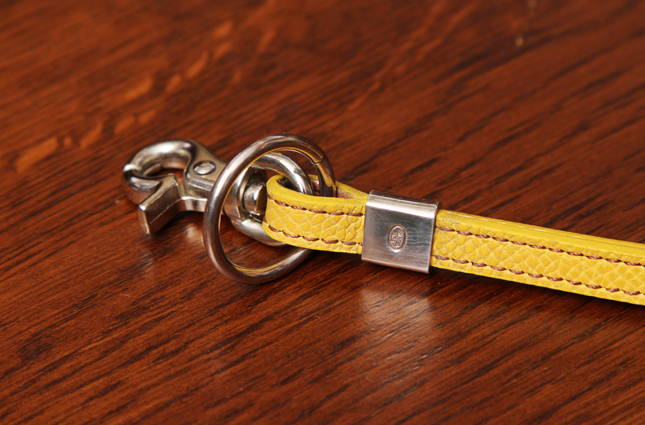 I devised it so that it was possible for pattern to take off a pattern and a strap to sprinkle it to a neck, and to use, and to touch to a suit and the shirt directly, both how to use when I let you joint it with the main body of ID.
A wide model of one side was decided in this, but used celluloid when I decided the parts of the window by saying that a feeling of surface of celluloid used for pass holders was beautiful in those days.
And, in the spring of 2002, I will announce the leather ID strap for the first time in Japan to the world.
When you exhibited in exhibition "MIPEL" held twice a year in Milan in September of the year, I caught eye of the Japanese buyer and came to be able to do the handling in a celebrity select shop or the department store.
But, a problem has occurred after release in a few minutes. It was that celluloid was broken.
"New York and Japanese difference"
I watched that local one really used at the time of a business trip to two times - three times a year of New York then that there was not yet a leather ID case in Japan. Then almost none of the states not to use the cases, and to use ID in itself with being bare, and not to deposit and withdraw from a plastic case. I thought that the lifestyle went to Japan and decided to produce window parts with celluloid. However, the times that a lot of companies where have not been yet equipped with facilities show a card towards a guard in Japan and enter it at that time. A burden hung over the verge celluloid to take because the frequency that a lot of one where ID was possessed with commuter passes put a card in and out increased and has been broken.

Of course I repaired it to the visitor that celluloid had been broken free, but had to think about how you improved this product immediately. As a result of being hard to be broken, and having thought whether there is not the strong material to bend it, I change it to vinyl chloride concerning a stake now to be broken even if I bend vinyl chloride.
Flexibility "which accepted the" times and the country
And the visitors who say when "most of the pins of the back do not use it" in late 2005 increase, and it is to the ID case that it is possible for not only the one side trainer but also both sides trainer to be simpler now that you should do it. When I entered the building itself, I knew that there were many one piece, which two pieces were necessary for in total by one piece, floor distinction, and it was with current form.
Furthermore, I made the model long because there was the demand called smartness "of the" appearance for using a lot of vertical ID and ID case in the foreign company.
A reel is attached with an option, and I am hanging it on a neck, and, in the case of security check, the string of the reel can perform growth, smooth movement.


If demand and how to handle visitor change, we are improved to cope with the change and want to let the country revise a correct better product in the time.