hello.
This is Brooklyn Museum COO Harumi Naito.
The hot summer is over, and the autumn weather is healed in pleasant days.
This summer feels hotter than last year,
In the heat, I was ashamed and felt like heat stroke, and there was a day when I got an infusion ... sweat
To my son who has recently studied SDGs in elementary school
He said, "Mom must be sustainable!" And there was no word to return ... lol
By the way, this time it was held in spring,
I would like to talk about kids' events.
I wanted to tell the children through the event.
"There is a technology to finish the" skin "of the meat that everyone usually eats into" leather "."
"I'm making things that make use of the" leather "= benefits to enrich my days."
About the "circulation" of life.
When making things, there are always scraps.
We are part of the project activity called "scraps are also life"
The scraps are not thrown away until the extreme.
The reason is that by making use of it, it is a source of thinking about new possibilities.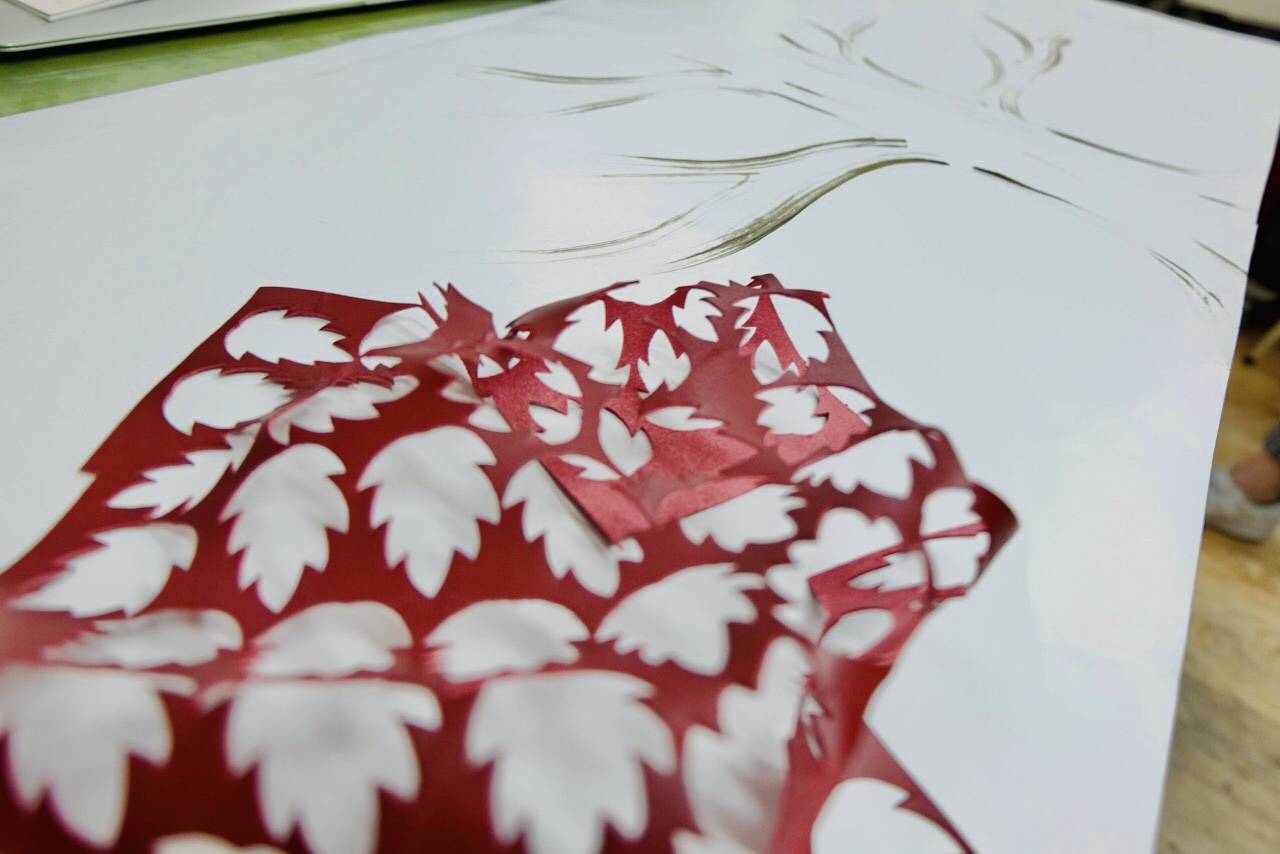 The day before the event.
The staff draws a large wooden motif, and cuts out terminal leather into a leaf type.
Our staff also enjoyed preparing, and the night of the staff matching, "I'll succeed!"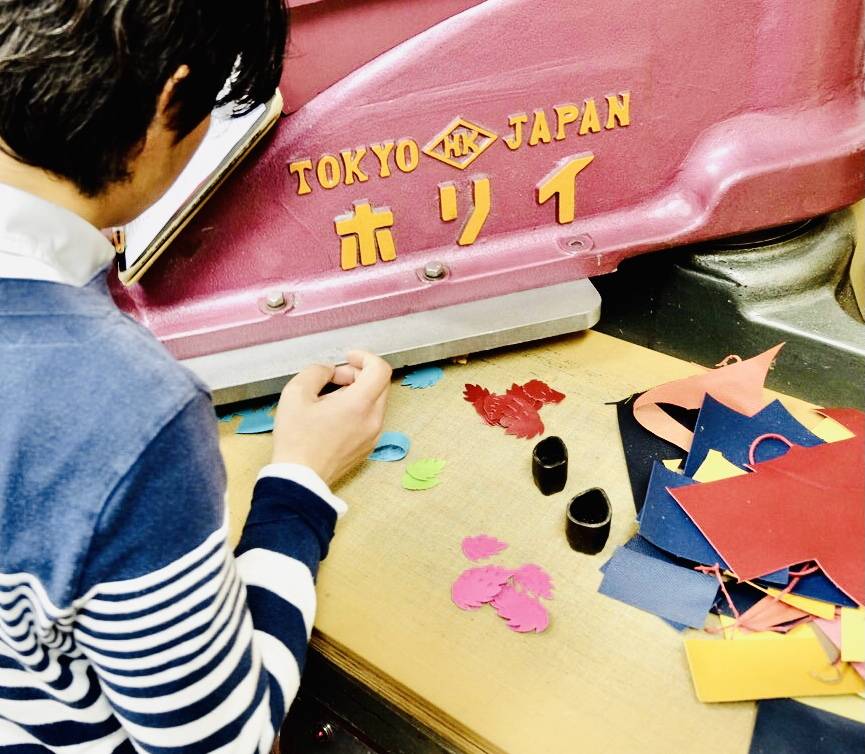 Aoyama Main Store is not visible from the shop, but a large clicker (mold exclusive aircraft)
Various machines such as band knives (leather making machines) leather sewing machines are installed.
While sorting out of the scraps, the leather reef is pulled out with a clicker.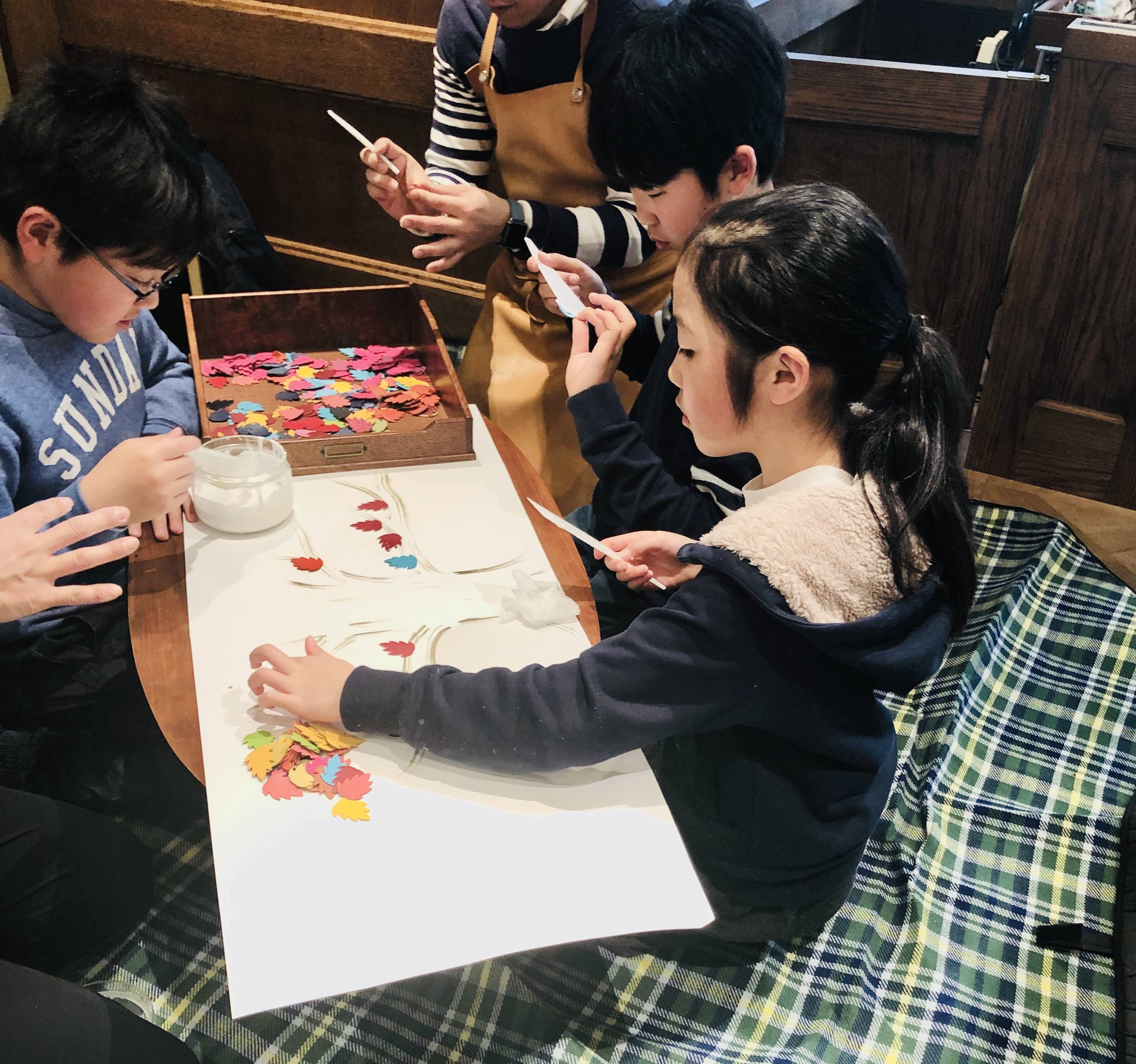 Now, leather artwork, start.
"THE Elementary School Boys", who had been playing with friends a while ago, is also motivated!
"Let's make this color here!" "Why don't you make the sun here?"
Everyone designs the leather reef.
At last, "How is this?"
What a carelessly suppressing the urge that seemed to be extraordinary ...
My mother was just watching me at any time.
I also try to be like her mother, but the reality is Muzukashii.
Watching over is patience.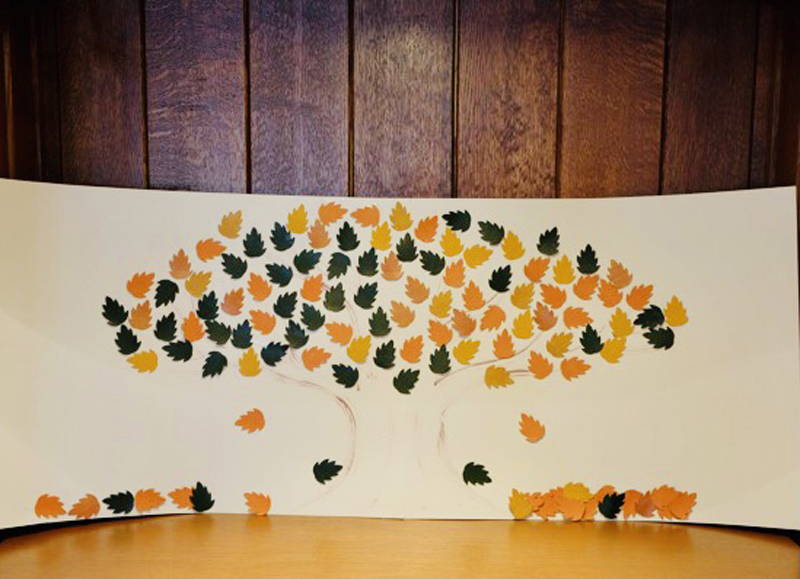 Finally, it's done!
The first work is a leather art of Yamato & persimmon astringent dyeing that you can fully enjoy beautiful aging.
If the leaves fluctuate in the breeze, and if the dead leaves are scattered, they will be enchanted.
5 years, 10 years, time passed
The density and gloss of Yamato & persimmon astringent leather should be increased, and it should be a golden tree.
"If you are 20 years old, let's drink together while watching this leather tree!"
Yamato said about 20 years ago, "I want to tell the end of the disposable era."
After trial and error with the founder, the modern national team, and the tanner,
Born Brooklyn Museum original leather.
It is a so -called "leather that returns to the soil".
In this era, it is "sustainable".
Art that ages over time with the walking of life.
"Sustainable leather art" that transcends the times has been completed.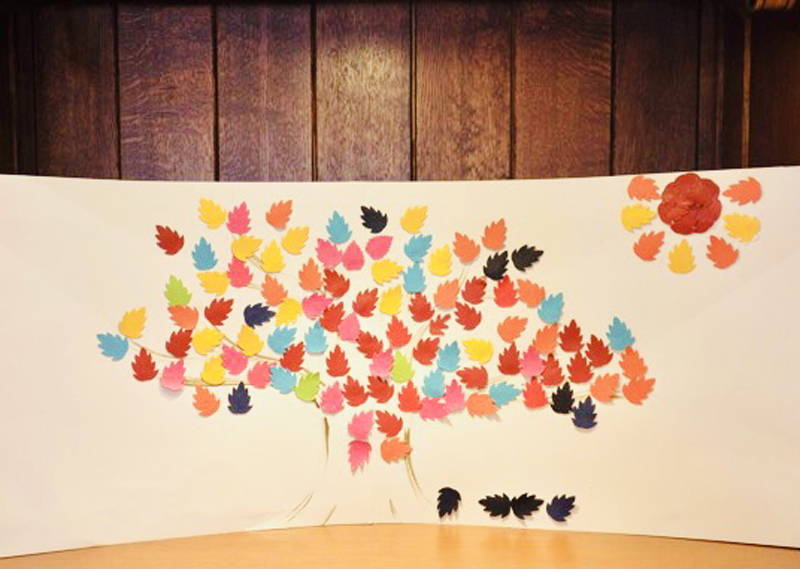 In the second work, the sun is good!
Designed the pop color well,
"Power art of the highest -class leather" is a work that makes your heart excitement and smiles unintentionally.
French calf is a high -quality and high quality calf worldwide.
In Europe, calfs are supplied as by -products from culture such as French cuisine,
Many of the big maison are selected because of its good quality.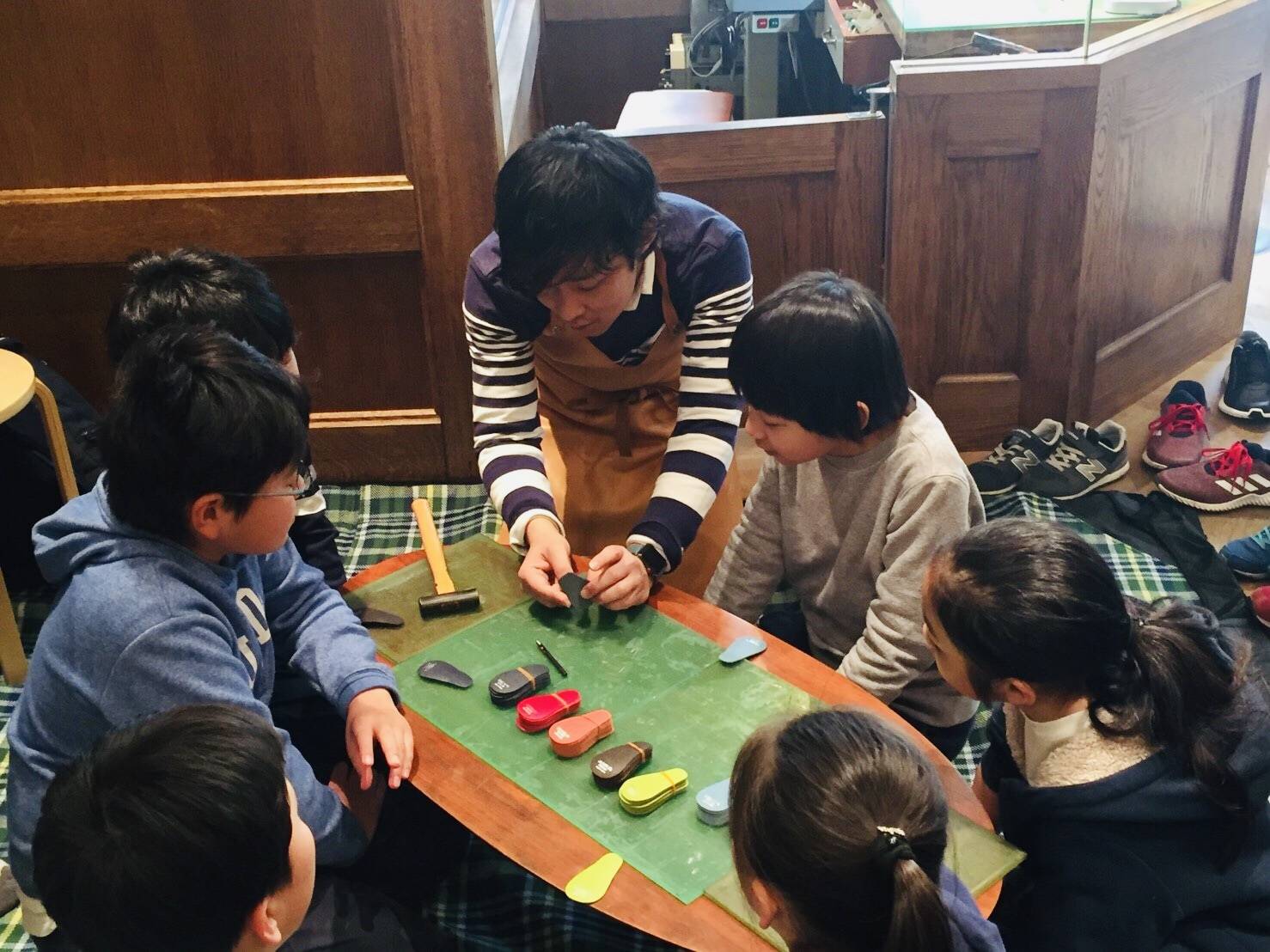 After a while, a keychain workshop.
It was only a scene where the concentration was tested, but at a stretch, the child who did it carefully, each of the pace.
Some boys make you laugh and get in the way.
"Mood maker boys" always did a good job.
The adult -like sense, the key chain is completed.
If you look closely, the koba is protruding or the caulking is off.
That's charming & memories.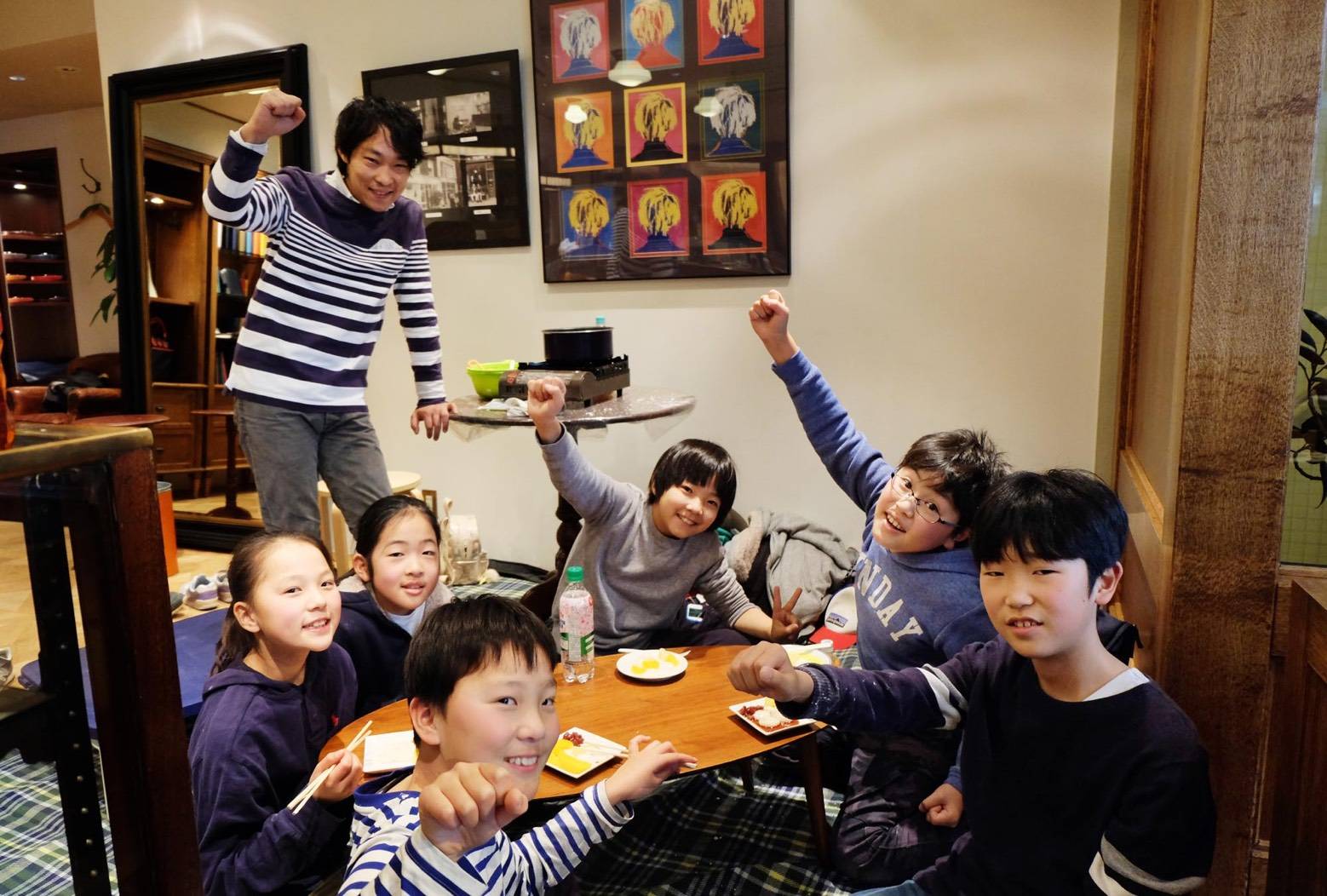 The snack time we waited, everyone challenged Shiratama cooking.
Relax time with white balls and juice.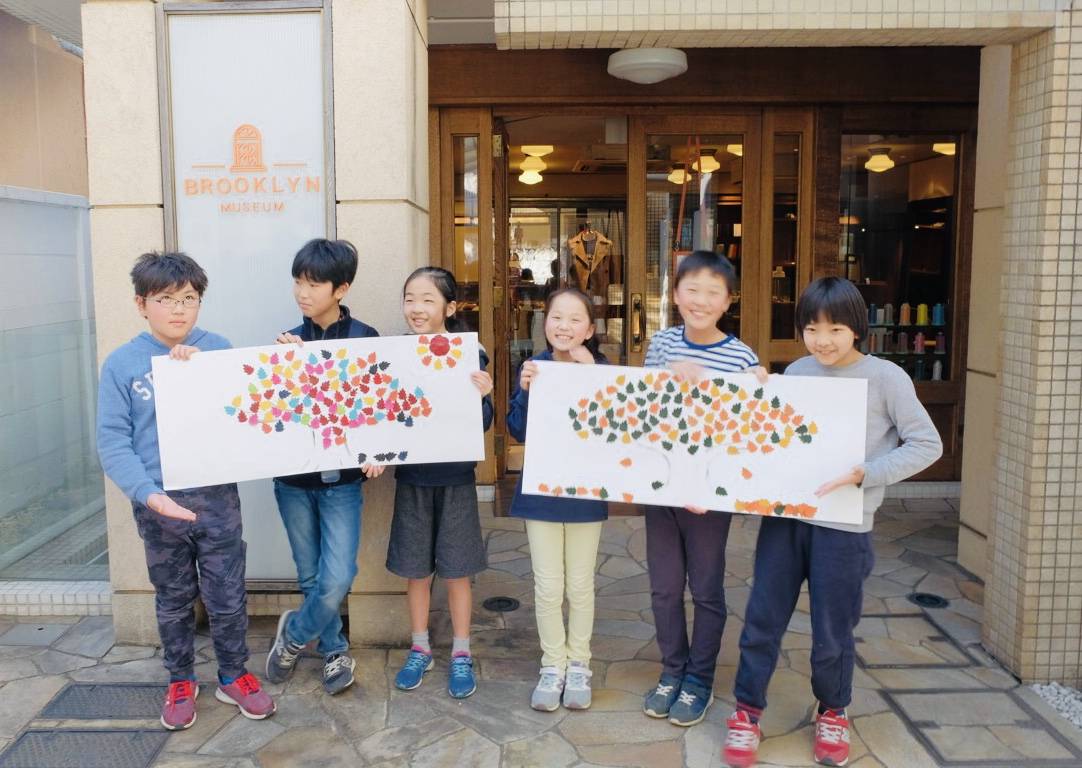 A unique smile! Everyone is different and everyone has a good face.
Children who tend to be absorbed in games at home,
By enjoying the fun of thinking and working together to achieve it.
It seemed to be stronger and more exciting than when I came.
There was a time when I used to be involved in about 2,000 human resources in a company.
I'm afraid that I'm not very impatient to nurture an adult
I can't break my heart (I've been broken many times lol)
Still, I was eager to do this, regardless of my boss or subordinates.
I think that I was able to step on it because I had a belief in "making the soil of my heart to grow together".
From the mother who participated in the event this time and watched me as well,
I received such words at a later date.
"I'm talking about cherishing things at home and eating without leaving gohan.
I felt it was transmitted.
After participating in the event
"What kind of meat is this? This is the product!"
It was good to participate because the awareness of things and food has changed. "
According to experience, it accepts "something".
The child's obedience is down.
When I get older, I sometimes just get used to it.
Before going to bed, I often reflect on, "Oh, I have more emotions than honesty."
Human resource development, parent -child relationship, company, school, home, cram school
"Building the soil for growing together with each other" is not an easy thing,
Keep your efforts to face steady, one step at a time, without feeling that they understand each other.
This is a trivial, if you can't do it without "love".
The NIJI project JM Park
You are convinced that it is "interest and love" to the members!
Next time, I featured SDGs + sustainable leather,
We are planning to hold an adult event.
# Life that is only once
# Limited resources
# Enjoy your life fun and rich
We would like to share a good time with Brooklyn users, so if you have any requests, please feel free to contact us, such as Instagram DM or telephone.
Finally Coming Soon Info!
A new bag is scheduled to be released in early November.
We hope you look forward to it.
Thank you for reading for a long time.
---
Something burnt ...
If you think, it will be a stunning black charm.
For blackness like jet -black
I even remembered the excitement.
There is an error in the try.
The error is also remembered.
And just bake bread without discipline.
(Only move forward!)