Description
"Just holding it will be a picture.
The color of the adult drifts,
Long wallet. "
The simplicity that adults who have graduated from decorating are required. Good quality that you can see at a glance.
A wallet is a mirror that reflects "personality" at any time.
that does not fade even over timeIn addition, the inner color finished with a vivid contrast makes you feel better every time you get it.
Not only on daily, but also in business scenes and special days, you can also impress feminine in the intellect of adults.
Six cards can be stored in the billing part, 4 in the foreground, a total of 10 pieces. The card stage of the bill is perfect for keeping a private card, such as a license and insurance card, because all cards are placed so that all cards are not visible when you open your wallet. By setting the back of the card in a storage pocket, the bill can be divided by type.
Because the gusset is widened, the wallet is wide open. In addition to the card slot, there is a partition pocket, so it is a nice point that you can properly organize the card statement and shop cards.
By using a French calf luxuriously to the inside, we can keep "beautiful" even if you continue to use it for a long time.
Parts that are particular about "sound"
The original snap is more focused on the pleasant "slick" sound and the feel that it is addictive to open and close.
The delicate feel that is called , which is easy to fasten, hard to come off, and can be opened and closed with a light touch is unique to the high quality of "Made in Japan", which continues to be produced in Japan consistently.
Because the flap is designed with room, it can be held without any problems even if the storage amount increases, so you can use it with confidence. It is a discerning point that can give great trust, despite small parts.
A firm free pocket is placed on the back of the wallet. Recently, the number of settlements in electronic money, etc. is increasing, and it is a convenient storage that can be used lightly without opening and closing flaps. Because the pocket itself is deep, I want to take it out immediately, but I don't have to worry about falling down Shinkansen tickets and parking tickets.
Although it is a simple design, it is finished in a long wallet full of multi -charm.
[Table / Middle] French calf (cowhide)
[Interior] Original soft leather (cowhide)

[Table / Middle] Mauve Pink x Ink Blue
[Interior] Yellow
[Stitch] off -white

Vertical vertical 9.5 x 18.8 × Machi 2.5 (unit: cm)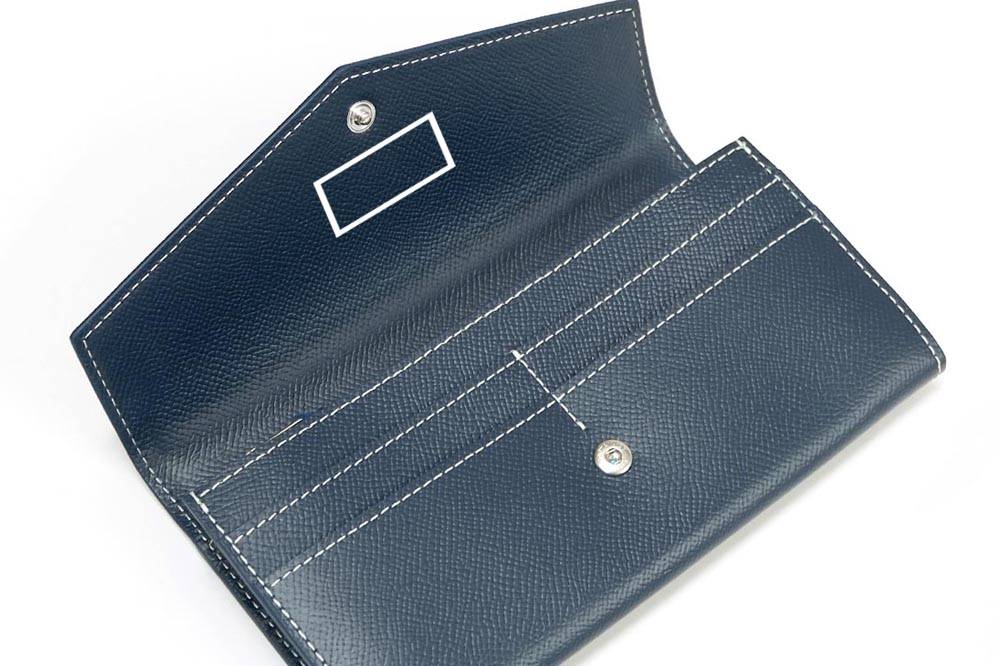 《Stamp free & free shipping campaign is being held》
We will make an initial engraving for free.
If you wish, on the shopping cart page at the time of purchase, "Inquiry items Input field"fart
[⒈ The engraved color you want (push, silver foil, gold foil) ⒉ Initial]Please describe.

* The engraved location is the image white frame.
* Initials will be up to 3 characters " *. *" (Combination of alphabets and dots).
* The engraved size is about 4mm vertical x 12mm width.
* If the engraved color is not specified, it will be engraved with a silver foil.
Payment & Security
Your payment information is processed securely. We do not store credit card details nor have access to your credit card information.