Product development secret story
Tote bag "which shows" a variety of expressions
When the Aoyama head office opens in March, 2002, the Brooklyn original tote bag is the bag which I gather the know-how that I cultivated as a wholesale dealer for 24 years and made.
The reason why this tote bag was born as.
In the first place, as for the tote bag, there is a big advantage called convenient bag "put in" anything a lot. However, when "there will not be the tote bag which was usable for the business that was why though it should be a union card to be easy to use a bag in a business scene ," I doubted and felt it. I think that this is because an image called "which is not suitable for business was strong because a" appearance is casual as for the general tote bag. Therefore I made use of Thoth のつかいやすさを and thought when "I wanted to make leather tote bag looking good with the suit-style" besides. "Became the key to commodification how" finished Thoth who was strong in a casual image elegantly.
At first it was a silhouette to have valued. I thought in particular that the gusset width was important. I woke up the paper pattern that there was many it to get the balance of a person and the bag judging from which angle, and to finish it to a silhouette seen neatly and groped for various angles.
After thinking that gusset 7cm in width was good as a result of trial and error, and doing sample production, the storing power was distinguished, but the lower part became never heavy, and the smartness that I regarded as important was not felt. Therefore I turned the bedrock of the gusset down 1cm, and the best balance that demanded it because central part used nature and a principle to bend was completed.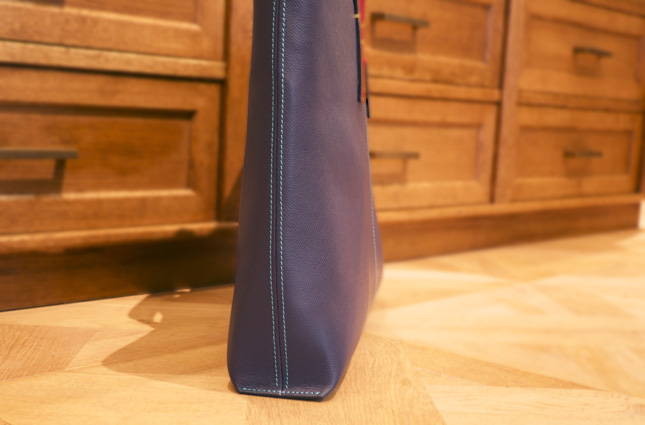 Pockets "which I built up after having assumed" all
Then, I used what kind of item in doing real work with "the convenience" that became important as tote bag or decided to examine it while raising an example.
The item which we carried thought that you must elaborate it in those days that there was a wallet, a notebook, a memo pad, a card case, a pen case, carrying, B4 file, an electronic calculator, glasses case key case and could receive these properly to a minimum.
The pocket that what I valued in that holds an accessory. From an experience of my own, I realized the importance again, but though carrying became in a bag, I was cut off while I was looking, and there was the experience that was not connected in the other party even if I turned it down immediately afterwards many times.
What was in wherever from という thought not to miss important business opportunity or was particular about a layout to know at first sight and made much of functionality and the convenience that "it was possible for rearranging order to put an accessory in a pocket necessarily" and finished it in the pocket which I was particular and outran.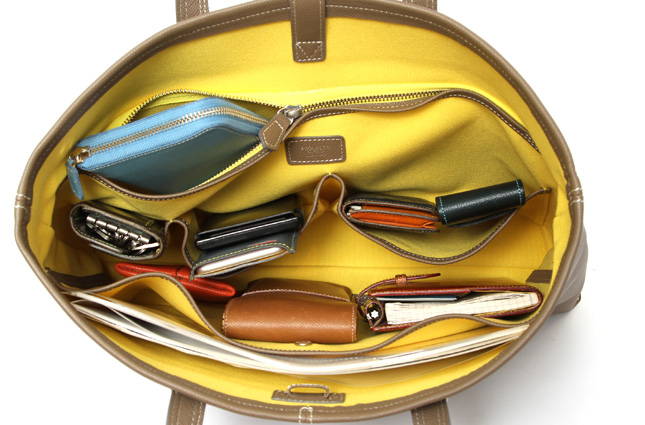 Steering wheel "which balanced a design with a" function
Furthermore, the steering wheel which is a point to abuse in a bag most. It was square, and it determined the shape in consideration of the balance with the main body of bag to flatten.
Because the early steering wheel established an important point in the smartness, I did it to put a thin core, was simple, making it. However, it came to seem that a steering wheel was worn out by always using bag in itself, and the review of immediate specifications was pressed for.
When, for a steering wheel, put a core uniformly, but really grip it; of the power took it, and leather became easy to be damaged because was not uniform because the shape of the steering wheel collapsed when grasped it. There was room for the examination for how to put in cores when I pursued という point with "the steering wheel which it was easy to have more, and was usable for a long time" more.
Therefore it is a change in specifications to be easy to grasp a thick core at the thickness that a steering wheel is piled up when I enter and have a bag more by the steering wheel center, and to be able to have. It was easy to have, and was superior to the durability by the setting side of a bag and the steering wheel spending a sewing machine on length and breadth well, and putting a handstitch for finish, and the Brooklyn's original steering wheel that let functionality and design characteristics balance was born.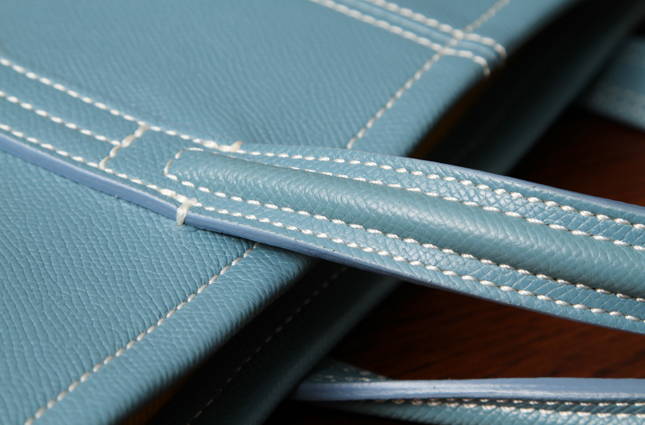 In the bag, I had the color that coordinates were seen neatly as <1 horn tool > which better, colored work by acquiring a color to show coordinates neatly more.

"Which the bag uses properly in the same way as" shoes and a belt by the scene

It is the tote bag which I was able to express simply because it is Brooklyn that continues always pursuing "pleasure to use".