Description
"Make the payment work beautiful,
Brooklyn Museum Bi -fold wallet "
Easy -to -use wallet overseas
A two -fold wallet with a coin purse representing the Brooklyn Museum.
We design not only to match the domestic lifestyle, but also to use it flexibly during business trips and travel scenes.
The smooth texture is beautifully finished with Wagyu beef leather in the table and inside, and the aging is transparent and transparent. In addition, the bicolor that can be expressed only because of the Brooklyn Museum is as if he is carrying art.
The appearance is smart, it is not bulky even if you put it in a bag, it is easy to fit in your pocket. The "sense" that increases because it uses high -quality leather is a royal road item that can be used anywhere in the world. 。
Generally, many coin purse in a binary wallet is opened and vertically attached to the right, but Brooklyn is attached to the left side.
By doing so, you can take out coins by taking out bills at the time of payment. There is no need to carry out the wallet itself, so the settlement can be done smoothly and it looks beautiful.
By widening the gusset width of the coin purse, the visibility has been enhanced by making it possible to receive coins at the cabse flap. It is a Brooklyn original method that is thoroughly focused on "comfort".
Partition that considers total power
By attaching a coin purse sideways, there is a space that can be used under it. Install three storage pockets to make effective use of it.
Originally, in order to reduce stress during overseas business trips, it was set as a pocket for sorting the receipt by country, but it is not limited to that. When using it in Japan in Japan, the first is to sort the first receipt, the second is sorted with a job -related receipt, and the third is a private card such as a license and insurance card. It can be set with your own usability. It can be used in a wide range of scenes, both in Japan and overseas.
Maximize the storage of a bi -fold wallet
In addition to coin purse and coin pocket, the storage location is set firmly, as well as coin purse and coin pockets, cardians, cards, cards, card back pockets, cards, so that it does not change significantly from the storage capacity of a long wallet just because it is a two -fold wallet.
Overseas banknotes are also available enough to store enough, so the banknotes do not pop out and break the edge. A wallet that balances compactness and usability in a well -balanced manner.
Leather parts that overlap in multiple layers. The polished koba is due to the "cut". This is an indispensable method for making Brooklyn leather items. Polish, add dye, and polish again ... Repeat this work to all parts. It is a very troublesome method and is not very efficient, but the only reason that Brooklyn continues to adopt it in all parts is that it can withstand many years of use.
No matter how much time and effort, you will never make something that will break or break right away.
Lining is original leather
The soft leather developed by Brooklyn for the interior. As the name suggests, it is finished with a soft and very soft texture, so no bills or cards are caught.
In addition, two soft leather is always applied to all parts, including the inside of the coin purse. The reason is simple, "I want you to use it for a long time."
We polish each part of the parts, such as card steps and partitions, and make sewing machines, so that they do not break or peel off.
[Table] Yamato (cowhide)
[Interior] Original soft leather (cowhide)

[Table] Tan
[Interior, stitch] Yellow

Vertical 9.5 x horizontal 11.2 (unit: cm)
<< Initial engraving free campaign is being held >>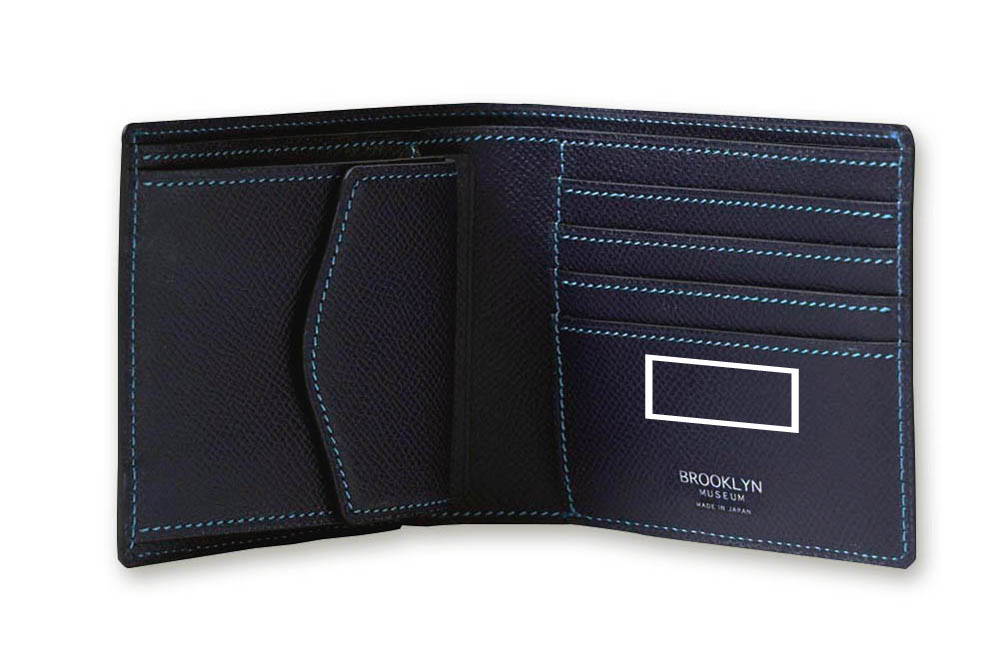 We will make an initial engraving for free.
If you wish, on the shopping cart page at the time of purchase, "Inquiry items Input field"fart【initial】Please describe.

* The engraved location is the image white frame.
* Initials will be up to 3 characters " *. *" (Combination of alphabets and dots).
* The engraved size is about 4mm vertical x 12mm width.
* The engraved color is similar to the logo mark due to the characteristics of the leather."Push"I will engrave it.
Payment & Security
Your payment information is processed securely. We do not store credit card details nor have access to your credit card information.