Description
As the name of "All Leather", Paul Brief uses Italian leather for handles and interiors.
The inside of the pocket is made of pig suede, and the bright colors are attractive. The combination of different materials selected because of the independent quality is the "style" of the Brooklyn Museum.
It is a briefcase that makes you feel like a rattle, has a hot feeling and pride, and makes you think that you want to work with this.
In addition to the quality of the selected leather, Brooklyn's own color spice is used to create a different taste and two flavors.
It is also a nice point that the handle can be replaced in mind that it can be used for a long time. In addition, because it has good breathability and is resistant to friction, heavy luggage is hard to be worn even if load is applied, and durability is outstanding ◎.
Because it is a briefcase that is active in various scenes, we are particular about the details.
Although it is a simple making, there are many sorting pockets only for items that think of using it.
On the front side, a zipper pocket and an open pocket are placed. Inside, there is a side pocket with A4 files as it is, and a large zipper pocket that can carry valuables such as wallets and key cases.
It is a decent spec of "work" given to all businessmen.
Leather [Smooth leather x Italian leather]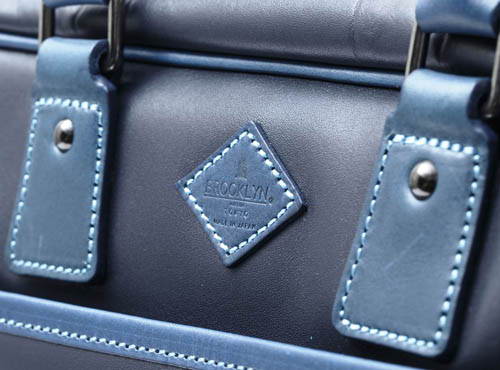 The body is used for the body is a soft, light, and a high -dyeing technique that leaves the texture of the raw skin as it is.
Although it is cowhide, it features a soft touch like lamb leather, and the fineness of the texture that is sucked in. In addition, we are particular about dyeing techniques so that the texture does not impair. Instead of dyeing only the surface of the surface, it uses a technique that allows the dye to penetrate to the leather core and express bright colors while leaving the original texture of the leather.
The Italian leather "Butero" is used for handle and piping in the Tuscany region of Italy. It is characterized by its unique firmness and transparent shade, and it is an expressive leather with a deep taste and beautiful luster as it is used because it contains plenty of oil.
The color of the butero that moves over the years and the texture of each smooth leather that increases the suppleness of the year is a combination that makes you feel even more quality.
[Body] Smooth leather (cowhide)

[Handle piping] Italian leather (cowhide)

[Interior] Pig suede (pig leather)

[Table] Black x Black
[Interior] Gray
[Stitch] Gray

Vertical 28.5 x horizontal 37 x gusset 7.5
Handle: Inner diameter 32
Weight: 1,000g
《Free shipping campaign is being held》
We are very sorry, but this product is not eligible for a free engraving campaign.
* Due to the structure, the engraving cannot be pressed after the finish.
The shipping fee will be delivered for free.
Payment & Security
Your payment information is processed securely. We do not store credit card details nor have access to your credit card information.